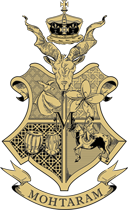 The Mohtaram Atelier now available for made-to-order
SARBALA SAHAB GROOMSWEAR 2018
In most places, "sarbala" is often the nephew or cousin of the groom who accompanies the groom during the ceremony as his protector.
.
However, Dilawar's friends, the "sarbalas", are packing up at the family haveli as how crown-seeking contestants pack before a beauty pageant.
.
Done in traditional silhouettes and playing with intricate hand-woven fabrics, our "gabru jawaans" don the ensemble with time-tested regality of a quintessential South-Asian groom and his best man. Mohtaram "Sarbala Sahab" – Groomswear Collection '18 is perfect for weddings, ceremonies and festive events.