Welcome to chambeilibridal.com. So, you have taken the first step to view our product range; here is a little bit more about our history and how chambeili® Bridal can help you make the right choice for your special day.
About
chambeili® Bridal offers #MADETOORDER Runway Bridal, Formal, Pret & Groomswear from Pakistan's popular fashion labels for our clients in the United Kingdom. We are rated 9.3 out of 10 on Trust Pilot.
At chambeili® Bridal, we pride ourselves in delivering excellent customer service to our clients, our fashion consultants have a keen eye for detail and creativity and will help you find your outfit for your special day, whether it's a wedding, engagement or a simple dinner party.
Whatever the occasion, we can offer you your bespoke outfit within your budget, design and colour. With our extensive knowledge of fabrics and the latest trends from Pakistan, our consultants will offer you personal styling and advice on your perfect dress, from cuts to fabric choice and embroidery techniques. We offer original designer wear directly from the design houses in Lahore.
WHY ORDER FROM CHAMBEILI BRIDAL?
chambeili® was created 6 years ago, through a passion for textiles and a lack availability of quality branded clothing in the UK. We took the first bold step to visit Lahore and Karachi, to see how far fashion has evolved out there. To our surprise, we were amazed at the fashion and trends and started the business with ready to wear outfits from brands such as MARIA.B, Limelight, Orient Textiles, Origins, Khaadi and selected young designers such as Zonia Anwaar, Faiza Saqlain, Farhan & Ambreen and Hamza Bokhari (JEEM) to offer prêt and party wear.
Over the years, we have specialised in delivering quality designer clothing and hold regular bridal exhibitions with the highly talented Faiza Saqlain, who is renowned for her flair and creativity as well as designing custom ensembles for many famous Pakistani celebrities such as Maya Ali, Sajal Ali, Aiza Khan, Saboor Ali and many more.
chambeili® Bridal was formed soon after chambeili® retail and we have been creating beautiful wedding, engagements and party dresses for a variety of clients throughout the UK and Overseas.
For all our made-to-order bespoke outfits, we work as a team with all the designers and help understand what the client's needs are in order to create a perfect outfit in the right colour, cut and fabric choice. Customer service is paramount at chambeili® Bridal and we like to ensure that the customer walks away feeling happy and wowed by their outfit. For me it's all about styling the client and creating a statement piece for that special day. We offer a free 20 minute consultation to find out if we can help design the right outfit for your special day.
Following the launch of Heer Jogni #PLBW17 Runway Collection, Faiza's latest bridal and formal collection proved a massive success with our clients. Check some of our customer reviews on Trust Pilot.
"WHAT YOU WEAR IS HOW YOU PRESENT YOURSELF TO THE WORLD. ESPECIALLY TODAY, WHEN HUMAN CONTACTS ARE SO QUICK. FASHION IN AN INSTANT LANGUAGE."
– MIUCCIA PRADA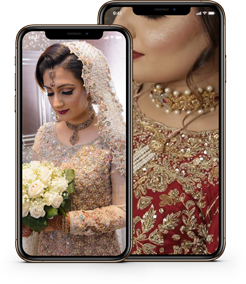 Case Studies
Read our overseas case studies where we made all the clothes from Mehndi to Rukhsati.
Order Process
Learn more about our order process so you are fully in the loop.
Appointments
Book your one-to-one consultation for custom fit made-to-order.
Testimonials
"I ordered my Bridal Lengha from Chambeili & was expecting it to come within 6 months. It was ready on time & of a very high quality. The design exceeded my expectations & I am very pleased with the outcome off the lengha. I am so happy & glad that I chose to order my outfit from here. It is a stunning piece & the customer service was very professional & to a high standard. Would definitely recommend all brides to order their outfits from here!"
Madhea